The FCA recently issued their policy statement PS22/11 setting out the enhanced Appointed Representatives (AR) regime and rules for firms to comply with. These came into effect on 8 December 2022 following a four-month implementation period with a further period of transitional arrangements to allow firms more time to comply with some of the new rules, particularly those requiring them to submit information on an on-going basis and to review their ARs and self-assess annually.
Why things are changing
The background leading up to the changes came from analysis carried out by the FCA – in part based on data held by the Financial Services Compensation Scheme (FSCS) complaints and supervisory case data, which showed that:
From 2018 to H1 2019, principals and ARs accounted for 61% of value from FSCS claims, for which the total was £1.1bn during this period 

On average, principals caused 50 to 400% more supervisory cases and complaints than non-principals (other directly authorised firms)

Supervisory cases were higher for principals across all sectors (general insurance and protection; investment management; retail investments; retail lending and wholesale financial markets).
There are currently around 3,400 principals and 37,000 ARs, including Introducer ARs (IARs) to whom this regime change applies. Along with addressing potential for consumer harm and market impacts, the FCA have set out objectives for greater engagement with the industry and firms in this area, with targeted supervision of those principal firms / sectors, using improved analytics and tools to focus on good customer outcomes. All of this is being funded by the introduction of a new fee for principals to pay against ARs relationships.
In early December, the FCA sent an initial information request via their section 165 powers to gather more detailed information of the sector arrangements including reasons for the AR relationships and commercials etc., and governance arrangements. This s165 has a 60-day lead-time to submission and is due back to the FCA via online submission by 23 February 2023.
The below table details the data being gathered in the s165 request.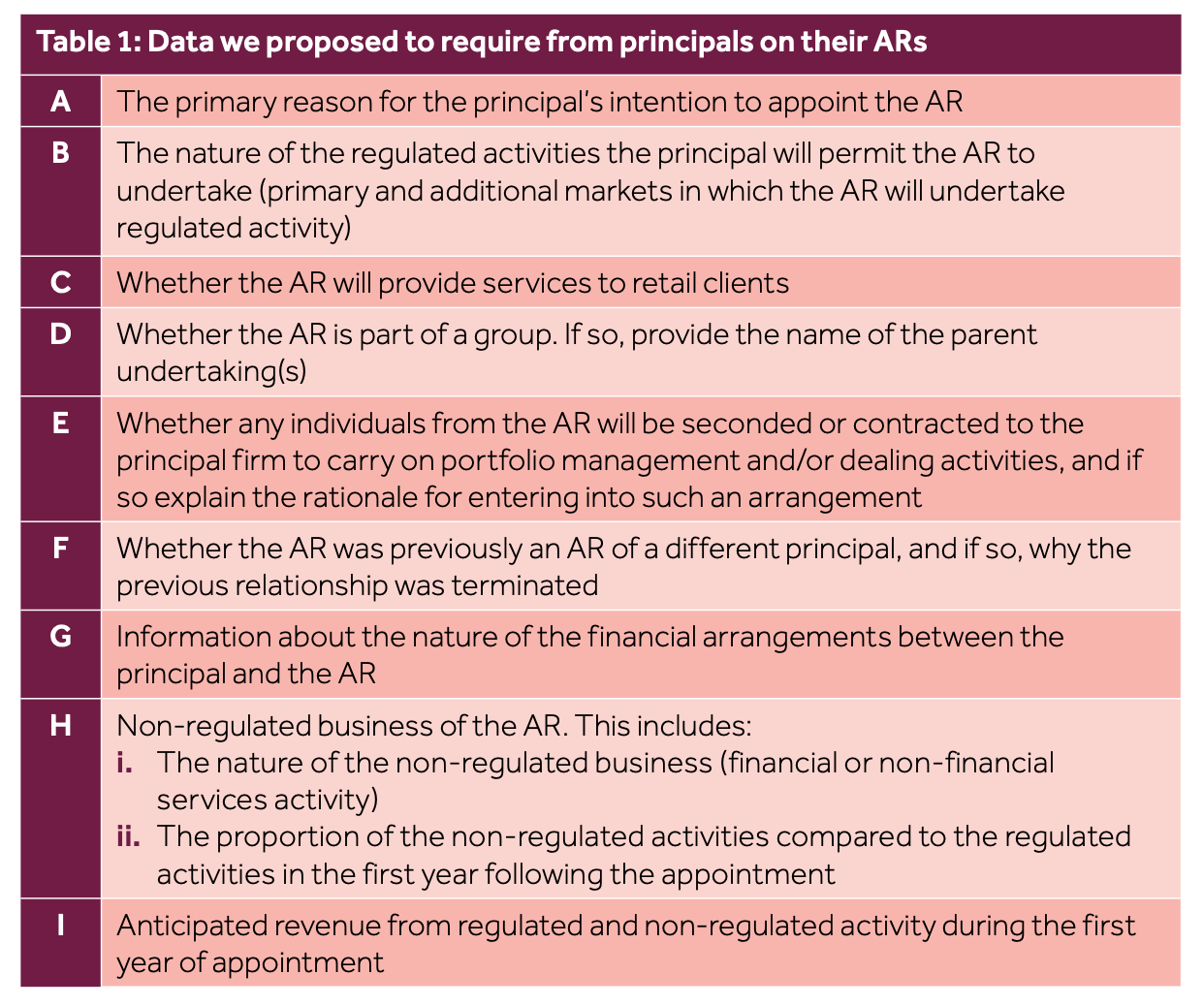 The FCA also requires firms to report on an annual basis to confirm ongoing governance is in place.
There are some critical returns information and governance aspects required for principals covering their ARs/IARs. The FCA have stipulated that principals need to
apply enhanced oversight of their ARs:
Ensuring adequacy of systems and controls, sufficiency of resources and monitoring AR growth – which can be met by principals integrating them into existing internal reporting processes, so long as they continue to meet the standards set out in the rules and guidance.
Firms are required to make a self-assessment and focus on how the principal itself is meeting its responsibilities in relation to all of its ARs.
This takes the form of a single document designed to identify any risks and gaps in compliance with the firm's obligations as a principal, and must be reviewed and signed off by the principal's governing body, at least every 12 months.
Firms should take more effective responsibility for their ARs, including by monitoring and assessing the risk of harm to consumers and market integrity by:
Overseeing ARs to a comparable standard as if they were employees of the principal.

Having clarity on the circumstances where they should terminate an AR relationship.

Assisting ARs with an orderly wind down.

Annually reviewing information on ARs' activities, business and senior management.
Principals also need to prepare a self-assessment document at least once a year, covering how they meet the requirements of the policy.
Lean into Grath's advanced AR expertise
At Grath we've been able to help firms to undertake an initial assessment of their capabilities, arrangements, governance, and controls and also structure a framework to monitor their organisational arrangements on an ongoing basis. This is supported by intuitive dashboards, exceptions, and escalation management with purpose-built assurance reporting to be delivered to the executive and board level for annual attestation, approval, and evidence to the regulator.
Grath understands the complexity in managing ARs and the need for resilient governance with robust engagement and oversight. Our GRC solution rapidly empowers principals to set up the business monitoring and reporting they need, with the ability to permission users by entity to access and manage the activities, deliverables, and reporting required to satisfy the regulatory obligations under this enhanced regime. Parent/Group structures have visibility of the ARs they permission and can see overall in real time where the firms are meeting the standards, they expect to enable the regulatory compliance expected and individual ARs can see their own business activities simultaneously – all deployed over simple cloud-based, web URL logins, with state-of-the-art technology and cost-effective pricing.
Interested in learning more?
If you'd like to know how Grath's technology can help you meet the FCA's new AR obligations then we'd love to talk.
Get in touch with us at grath.com/contact